Scenario Planning for Higher Education
Date & Day

23 & 24 November 2021
Tuesday & Wednesday

Platform

Zoom Meeting

Contact Us

This email address is being protected from spambots. You need JavaScript enabled to view it.
019 - 5667402 (Noraini)
011-40662840 (Sarah)
---
Workshop Questions
-What is a foresight approach and scenario planning as a foresight method?
-Why is it important for the participants to understand and practice it?
-How does it work?
-How does one apply the theory into practice?
Day 1 Information
This 2-hour session is meant to enable participants to have a common background context from which to do scenario planning. This session provides an introduction to scenario planning and the larger field of futures and foresight work and establishes common ground for participants to be able to do the scenario planning successfully.
Day 2 Information
This 4-hour experiential workshop will include the concepts and process for how scenario planning can be useful in the academic sector. Participants will be going through hands-on activities through the different methods introduced in the scenario planning process. They will learn frameworks to identify trends and scan horizons, select key uncertainties to work with, and develop multiple scenarios to explore their focal issue. The session will round up with a segment on translating scenarios to strategies.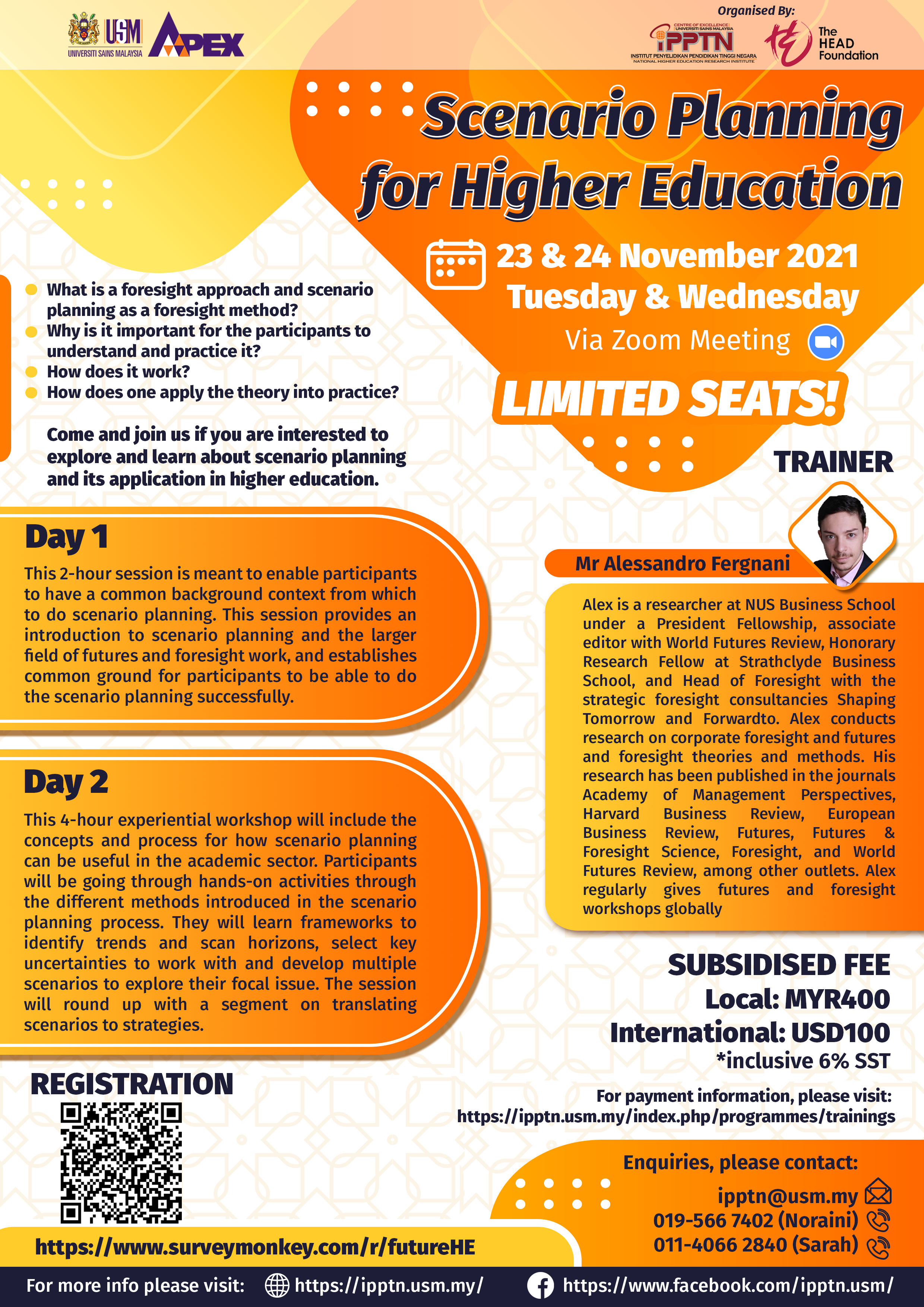 ---
PAYMENT METHOD INFORMATION
Online Banking [Electronic Fund Transfer (EFT) / Telegraphic Transfer (TT)]; Automated Teller Machine (ATM) & Cash Deposit, Over-the-Counter (OTC) payment:

Account Name : USAINS Holding Sdn. Bhd.
Name of Bank : AmBank (M) Berhad, Level 21, Menara Dion, Jalan Sultan Ismail, 50250 Kuala Lumpur.
Account Number : 888 – 100 – 985 – 0380
Swift Code : ARBKMYKL

2
3

Credit card payment


Local participant

: MYR408.00 (inclusive of 6% SST and 2% Razor Merchant Charge)

---

International participant: MYR435.55 (inclusive of 6% SST and 2% Razor Merchant charge)
PAYMENT TERMS & CONDITIONS
Registration is on a first-come-first-serve basis. The payment for Scenario Planning for Higher Education must be made in FULL AMOUNT, excluding other services and charges. A merchant service charge of 2% for credit card will be charged for each successful transaction and to be borne by the participant. Official receipt will be received automatically for online payment.

For other payments such as Government Local Order, bank cheque, telegraphic transfer, kindly email a copy of the document to the Secretariat for our reference.

The Secretariat reserves the right to refuse participation if payment is not received by then. There will be no refunds for cancellation and non-attendance after 10 November 2021. However, a substitute or replacement participant will be considered. Please inform the Secretariat of such changes immediately. The Secretariat reserves the right to make changes on virtual platform as they deem necessary.

The decision of the Secretariat in all matters pertaining to the conference is final.